Leicestershire & Rutland
your local, professional oven cleaning service
NON Caustic
No Fumes
Clean & Tidy Finish
Welcome to Revive & Shine
Are you fed up with cleaning your oven? It can be a gruesome task but thankfully Revive & Shine are here to lend a helping hand. We are your professional, local oven cleaning company and we love what we do! For us, there's nothing better than reviving your tired old oven and making it shine! We clean all types of ovens. Whether you have an AGA, Rangemaster or just your conventional single or double oven – we take them apart, clean them up and even replace a light or two if required. All of our cleaning products are non-caustic and do not smell! We literally bathe your oven racks (sometimes trays and other items too!) while we give your oven a good cleaning. Once we're finished we piece it all back together to make your oven look as good as new. If you're sick and tired of dealing with a smoke-filled kitchen because your oven is dirty – give us a call, we welcome any oven cleaning job in Leicester, Rutland or pretty much anywhere in Leicestershire.
Get in touch today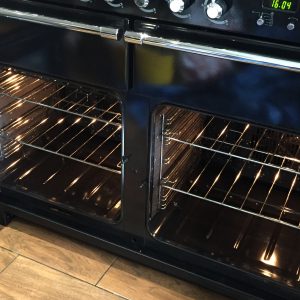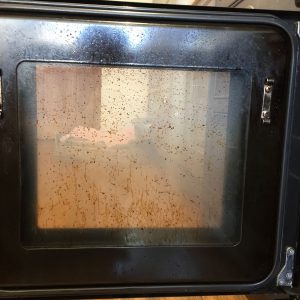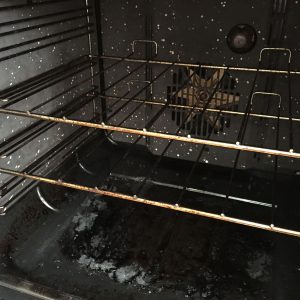 AGA & Rangemaster
We are well equipped to handle all manner of complex oven cleaning from manufacturers such as AGA and Rangemaster.
If you're worried that your oven is too complicated or even too big - don't worry, our prices start at £65.
Get a Quote
or call
0116 2695307
/
07799446169
Single & Double Ovens
We clean both conventional single ovens and double ovens (with the grill / mini-oven at the top). If you require oven cleaning in Leicester then give us a call!
Our prices start from £45
Get a Quote
or call
0116 2695307
/
07799446169
The Revive & Shine Oven Cleaning Process
We know that a professionally cleaned oven can be quite a task, and we aim to be make the process as smooth as possible for you. This is why we've outlined our typical oven cleaning process below so you know what to expect when we visit. All in all the process takes 2-3 hours for a conventional double-oven.
Arrival & Preparations

When we arrive at your property we set up our non-caustic special heated bath wherever there is available space.

Soaking your Oven Components in our special Heated Bath

We place all of your removal parts into a special heated bath to soak and lift off all the baked-on deposits. This includes racks and shelves and any other removable items from your oven. We leave these items to soak while we work on your main oven.

Cleaning the main oven

We preheat your oven and use a special tool to clean the inside, especially those heavily built-up areas in the corners! Using our non-caustic, fume-free formula we make sure every possible surface in your oven is as clean as can be.

Dismantling the Doors

Where possible we remove the oven doors and give them a good scrub using our special (non caustic) formula.

Shining and De-Grease

We shine your oven glass and give the entire oven a final de-grease.

Piecing it all back together

We put your oven back together, including the cleaned shelves and racks and give it one final wipe-down to really finish the job.

Sit back and admire

Now you can sit-back and admire your fume-free oven - and of course you can start using it straight the way!
For all your oven cleaning needs
call Stewart on 0116 2695307
No Caustic Chemicals & No Fumes!
No Hidden Charges
Easy Pricing Structure
Cash / Cheque / Bank Transfer
Leicester, Leicestershire & Rutland Areas Covered